OFSS Online Bihar 2022: Hello friends, today we will tell you how you can fill the Common Application Form online very easily through OFSS.
we have given an easy way to complete the process in 9 steps, please follow them Carefully. And you can enroll very easily through Apply OFSS Bihar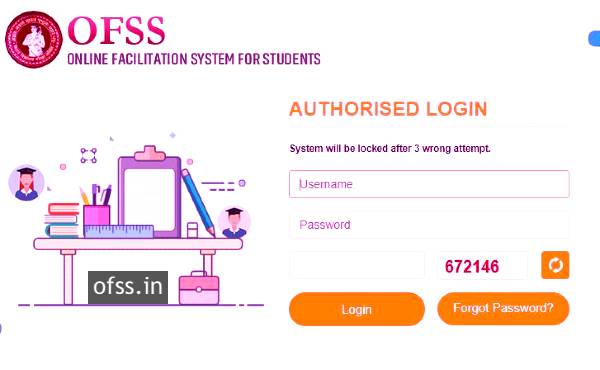 Steps For Apply OFSS Bihar Online Form 2022
First Step – First of All, go to the Official Website of ofss bihar online ofssbihar.in।↗️ using any Web Browser of Mobile or Laptop,
Second Step – After going to the homepage, it will appear there, click on the option for online CAF For Intermediate link.
Third Step – After this, you have to click on the CheckBox, accept all the terms and conditions that are coming up, and click on the "Click Here To Fill Your Application Form" button.
Fourth Step – Now the Next Page will open, here first, select the Year in which you have Passed, select the option in which year you have Passed, then you enter Your Birthday, then your Roll Number, And enter the Roll Code.

after this you enter your Full Name, then your Father & Mother Name, now after putting all the information, now you upload the Scanned Photo.
Your total received marks, your school's name, school address, year of school enrollment, and completion as shown in the Picture Below

Fifth Step – After this, you have to fill Your Gender, Mother Tongue, Citizenship, Religion, Blood Group, State, District, Block, Pin Code, and after that Your Mobile Number & Email ID & Reservation Details in the Common Application Form.
Sixth Step – After filling in all the details carefully, you can choose a minimum of 05 options and a maximum of 20 options for enrollment in school/college.
Seventh Step – After filling in all the information, press the Submit Button. After doing this, a Preview of the Common Application Form you have filled will appear.

If you confirmed that the details shown by you in the Preview are Correct, click the Confirm button. After clicking the Confirm button, the Mobile Number will be Redirected to the Confirmation page.

Eighth Step – OTP (One Time Password) will be received on your registered mobile number. After filling OTP (One Time Password), click the Submit button.
Ninth Step – After ensuring the Mobile Number, you will be directed to the payment page on the payment page. Choose the method of payment like – Vasudha Kendra, Payment Gateway (Net Banking, Debit Card & Debit Card), etc.
Tenth Step – After the payment process is complete, you will get the Transaction ID. And you will get the option to print a copy of the filled application form. Please Save It For Future Use
FAQ: Apply online ofss bihar | OFSS Online Bihar 2022
Que – bihar graduation admission 2022 online form apply ofss admission fee 2022?
Ans – BSEB Intermediate Admission i: OFSS Online Bihar Fee has been fixed at 300₹/- for all Streams.
Que – When will BSEB 11th Admission start OFSS Online Bihar?
Que – BSEB 11th Apply Online OFSS Bihar?
Ans – Matric Roll Code, Roll Number, Mark Sheet, Passport Size Photo, Mobile Number, Email ID, & basic simple information, etc.
Que – How to do BSEB 11th Intermediate Admission Ofss Bihar Online?
Ans – BSEB 11th Intermediate Admission can be done online with the help of OFSS Bihar Online Portal.
Que – BSEB 11th Intermediate Admission Official Website?
Ans – For BSEB 11th Intermediate Admission, you can apply online from the BSEB Online OFSS Bihar site.
Conclusion:
And in this way you can fill the application form for intermediate very easily through Apply OFSS Online Bihar, friends, if you liked our post, then please share this post with all your friends who are students OFSS Online Bihar wants to fill the form,
and if you do not understand any of the steps in this post, please ask us through comments, we will do our best to troubleshoot your problem soon – thanks